RICHMOND CAMP
The PDF of the 2020 Richmond Camps Schedule is available

here!
What are Geering Up camps about?
Geering Up camps are dedicated to the education of science, technology, engineering and mathematics (STEM) to youth through innovative and interactive experiments, hands-on projects, design challenges, facility tours and more! Geering Up camps are taught by a group of experienced university students that have a passion for learning and education.
Geering Up camps are one week long (Monday – Friday) and run from 9:00 am – 3:00 pm. We schedule a 30 minute recess and a 1 hour lunch break every day. Camps do not run on statutory holidays. Further, Before Care, After Care and the Lunch programs will not be offered at the Richmond camps. Please ensure that you pack your child snacks and a lunch and that you are available to pick-up and drop-off your camper during our camp hours.
What types of Camps do we offer at Richmond?
Our team of expert Curriculum Planners plan the curriculum for each program at the end of June. We do not send out exact schedules, as our camps are fluid and our instructors will often make a few curriculum adjustments to better fit each week's camper needs. Generally speaking however, the activities done during the camps are different each year – so every summer, get ready for an exciting new week of learning!
Here is a complete list of programs that are available at our Richmond location. These are for campers between grades 2 to 7.
Maker 2/3
STEAM 2/3
CodeMakers Jr.
Maker 4/5
STEAM 4/5
STEAM 6/7
CodeMakers Sr.
More information about each camp program is available at the bottom of this page and on our registration site.
Please note that Before Care, After Care and Lunch Program are not offered at our Richmond location.

Have more questions about our camp?
You can reach us at richmond@geeringup.ca or at 604-822-2858 (Vancouver main office).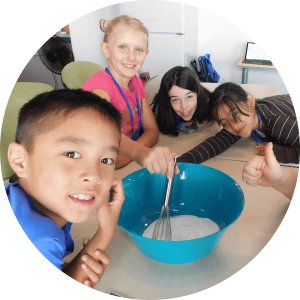 Location
This is the very first year that UBC Geering Up is offering summer camp programs within the Richmond community! We are excited to announce that we will be holding our Richmond camps at the Richmond Christian School Secondary campus.
Please be advised that Richmond Christian School has three separate campuses and ensure that you arrive to the Secondary School campus.
The address is 10260 No. 5 Road, Richmond, BC V7A 4E5.
Complete List of Geering Up Camp types:
Please check our registration site for camps offered at this location.
STEM Explorations
Grade 1-5
STEM Explorations is all about exposing participants to the fun, thought provoking, and interdisciplinary nature of STEM. Whether it's planning solutions to engineering problems, or experimenting with mind-boggling science phenomena, our STEM explorations camp aims to engage our participants through hands on, relevant and diverse activities.
Maker
Grade 1-5
Makers unite! Join us as we push the boundaries of DIY. Our Maker Camp encourages all those who love to tinker, question, and create to come together in a week filled with hands on activities designed to inspire participants to build a friendlier world for everyone.
STEAM​
Grade 2-7
Originality, creativity, and innovation are the beacons that guide our STEAM programs. Rooted in the union of artistic expression and STEM design processes, we aim to foster a co-enriched environment in which participants can explore their STEM passions alongside artistic pursuits. Join us for a week filled with design inquiry and fun hands on projects!
Computers & Me
Grade 2-4
Computers and Me camp! This is a coding camp theme that is designed to give kids an introduction to computer science. The week will involve lots of computer based activities to teach the basic principles of computer programming. No previous computer programming experience is necessary. Learn more about CodeMakers
here
!
Creative Coders
Grade 3-7
Welcome to CodeMakers: Creative Coders. This is our software focused camp, where we explore the world of programming in computing technologies. If you're excited about the idea of programming based innovations, then you'll want to join fellow coders for a week of creative coding projects! All skill levels welcome. Learn more about CodeMakers
here
!
Robotics
Grade 5-7
From rovers to running robots, applications of robotics are all around us! Whether it's passion for gears, design, biology, or computers, our Robotics camp has a place for you collaborate with fellow engineers and scientists. Join us for a week of robotics design, testing, and problem solving to start innovating for the helpful robots of tomorrow. Learn more about CodeMakers
here
!
All Girls
Grade 1-12
Learn more about our All Girls Programming
here
!
ASAP : High School
Grade 8-12
Learn more about our ASAP: High School Program
here
!​
Satellite Locations
Grade 1-7
Geering Up is proud to offer programming at various locations across the lower mainland! This year, we have camps running in South Surrey, North Vancouver, North Delta, and Richmond (new!). Click
here
to learn more about the camps offered at the different locations.